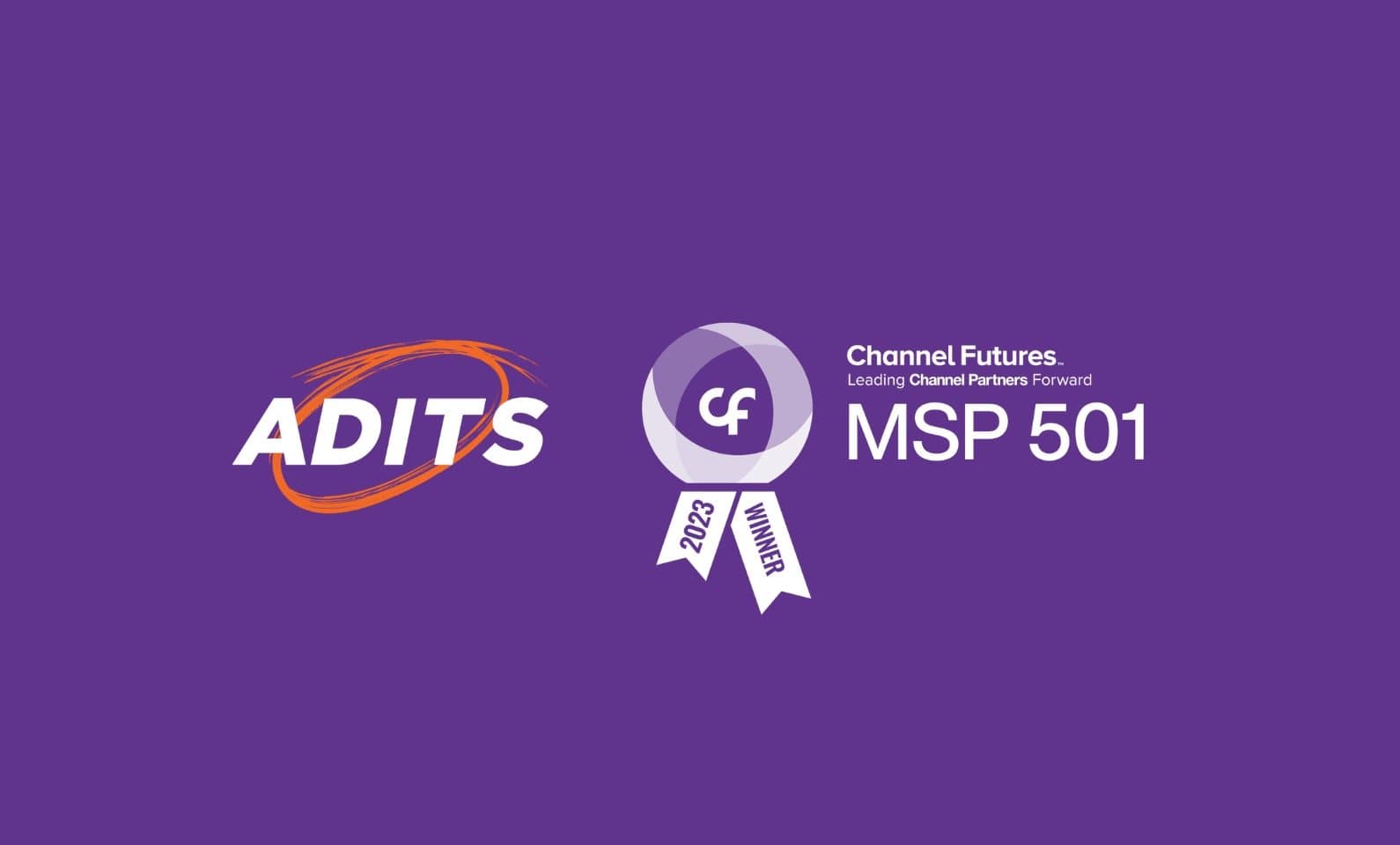 For the fifth time since 2018, ADITS has been named among the tech industry's most prestigious managed service providers (MSPs) worldwide.
The Channel Futures MSP 501 survey has been ranking MSPs for organisational performance for the past 17 years. The ranking is based on annual sales, recurring revenue, profit margins, revenue mix, growth, innovation, and supported technologies.
Qualifiers must pass a rigorous review that ranks applicants by weighing financial performance based on long-term health and viability, commitment to recurring revenue, and operational efficiency.
Thrilled, proud of team
Adam Cliffe, ADITS South-East Queensland Managing Director, was thrilled about the news. "We just always do our best for our clients – that's our commitment. We invest in studying their needs so we can deliver better IT for them. The awards we receive are a testament to our own clients' testimonials about the work we've been doing."
Ashley Darwen, ADITS Group Managing Director, shared: "Every time our company is recognised, our team members recall the hard work they've put into every project. It makes them feel proud to be part of a business that puts customers first, consistently providing an excellent job, and working as a team… I'm proud of you all!"
ADITS started with one employee and one client in 2006 and grew into a dependable MSP with over 14,000 users in 842 organisations worldwide. The company now focuses on providing managed IT services and cyber security services. They have been described by clients as efficient, reliable, competent, and honest.
'A new wave of innovation'
This year's MSP 501 is said to be one of the most competitive in the survey's history. It has transformed from a competitive ranking into a vibrant group of innovative MSPs focused on raising customer satisfaction levels.
"The 2023 Channel Futures MSP 501 winners persevered through challenging times to become the highest-performing and most innovative IT providers in the industry today," said Jeff O'Heir, Channel Futures senior news editor and MSP 501 project manager. "The MSP 501 ranking doesn't award MSPs solely on their size and revenue. It acknowledges the business acumen, best practices, and trusted advice they deliver to customers every day. They deserve the honour."
Kelly Danziger, general manager of Informa Tech Channels, said, "We extend our heartfelt congratulations to the 2023 winners, and gratitude to the thousands of MSPs that have contributed to the continuing growth and success of the managed services sector. These providers are most certainly driving a new wave of innovation in the industry and are demonstrating a commitment to moving the MSP and entire channel forward."
A special event has been scheduled to recognise the 2023 MSP 501 winners on the Channel Futures website. They will also be feted at the Channel Futures Leadership Summit on 30 Oct-02 Nov 2023 in Miami, Florida.
Behind the MSP 501
The data collected by the annual NextGen 101 and MSP 501 drive Channel Futures' market intelligence insights. The 2023 MSP 501 list is based on confidential data collected and analysed by the Channel Futures research and editorial teams. Data was collected online from February to May 2023.
Channel Futures is a media and events platform for the information and communication technologies (ICT) industry. They provide information, perspective, and connection, plus insights, industry analysis, peer engagement, business information and in-person events.